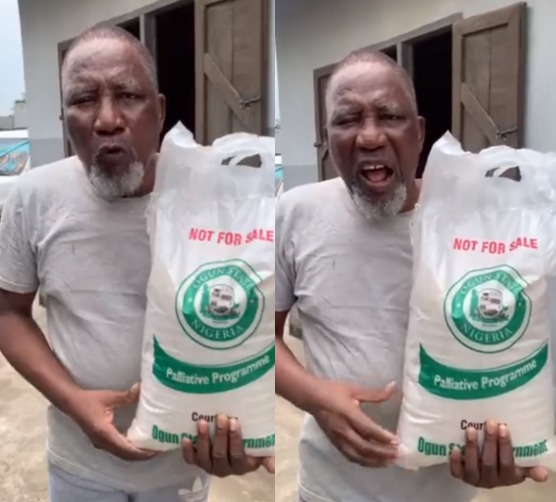 The Chairman of Shokeye estate in Ogun state has slammed the state governor, Dapo Abiodun, over the 'bag of rice sent as palliative to his estate of 147 houses.'
He said he was at home when the bag of rice was brought to him as palliative for the whole estate with 147 houses.
Expressing his shock, the man said:
''I am confused. I don't know how to share this for 147 households in Shokeye estate. If you guys, the government, I am talking to Dapo Abiodun now, if you people know you cannot do something, don't do it. We are not hungry, we are not beggars, so we do not need your rice as palliative. This is not even one bag. This is not up to one-eight of a bag of rice. 
I will return your rice so you can give it back to Gov Dapo Abiodun so they can give it back to his boss Tinubu who sent him. We are not hungry people and God will not make us hungry. If you want to give us palliative, don't insult us. This is an insult. Shokeye estate refuse to be insulted"
Watch a video of him speaking below…