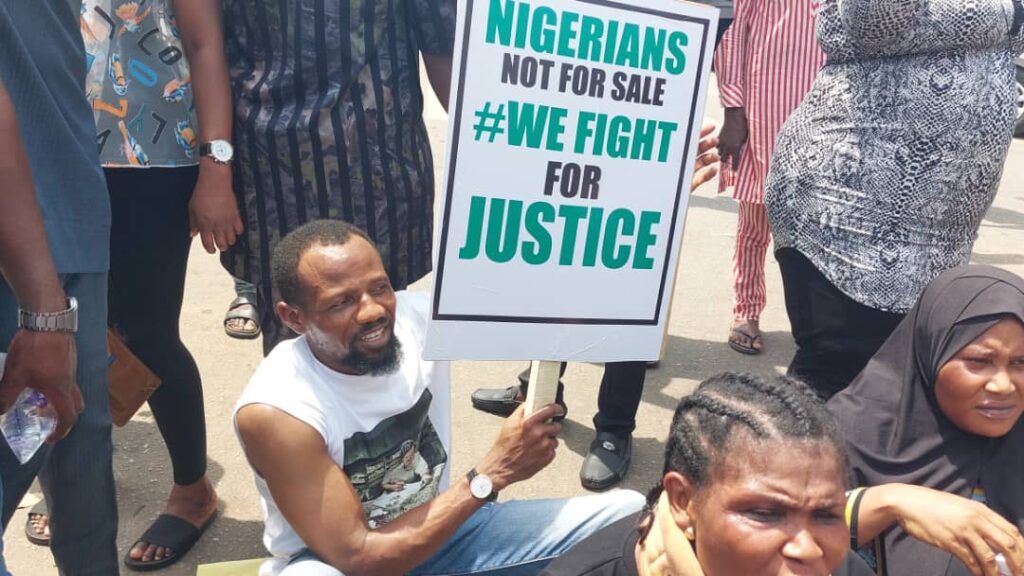 Convener of Free Nigeria Movement, Dr Moses Paul, reportedly escaped a stabbing attack on Sunday in Abuja, Nigeria's Federal Capital Territory.
SaharaReporters gathered that tragedy was averted by security guards when members of the group converged for its Occupy INEC (Independent National Electoral Commission) protest at the Unity Fountain, Abuja.
Although the alleged assailant, identified as one Abdullahi was equally apprehended and handed over to the police for further investigation, the incident, however, didn't deter the protesters from asking that institutions must be held to account for their actions and inactions.
A member of the movement, who spoke on condition of anonymity said, "Members gathered at the foot of the fountain for the daily charge when the group's private security restrained a man, later identified as Abdullahi, after he attempted to stab the convener, Paul.
"According to the head of security, Mr Taiwo, he began to monitor the man after noticing his suspicious behaviour.
"He said the man removed a knife concealed in his clothes as he approached Dr Moses Paul in the crowd, attempting to stab him. He was however restrained and the knife was recovered.
"The man has since been handed over to the police for further investigation."
He said that Paul has condemned the attack, describing the action of the assailant as unfortunate.
He quoted him to have said, "The Nigerian political system which the likes of Prof. Mahmood (Yakubu) would trade their birthrights to perpetuate is rigged to produce people like this young man.
"He is a victim of a system whose premium output is a thriving demography of conscienceless individuals, especially young people who would never find reason or muster the courage to question the system because they are broken beyond their rational wits.
"While I am grateful to God for sparing my life, I feel pity for him for the grave injustice done to him by a system that would never allow young people to rise. He has been handed over to the police for further investigation. We await their findings."
According to the source, Paul has called on members of the group to remain calm and not be unlawful.
He, however, noted that after the incident, the group proceeded to the justice ministry where they made a brief stop to pray for Nigeria, kneeling and raising their fists as Timi Dakolo's 'Great Nation', which has become the rallying tune for this protest, set the mood.
"The group maintained its call for the sacking, arrest and prosecution of Prof. Yakubu Mahmood as well as the establishment of an Interim government. The protest which entered its fifth day today continues tomorrow."