Members of the "Obidient Movement," as well as the supporters of the Labour Party governorship candidate in Enugu State, Mr Chijoke Edeoga, have besieged the office of the Independent National Electoral Commission in the state, insisting that the party won the election.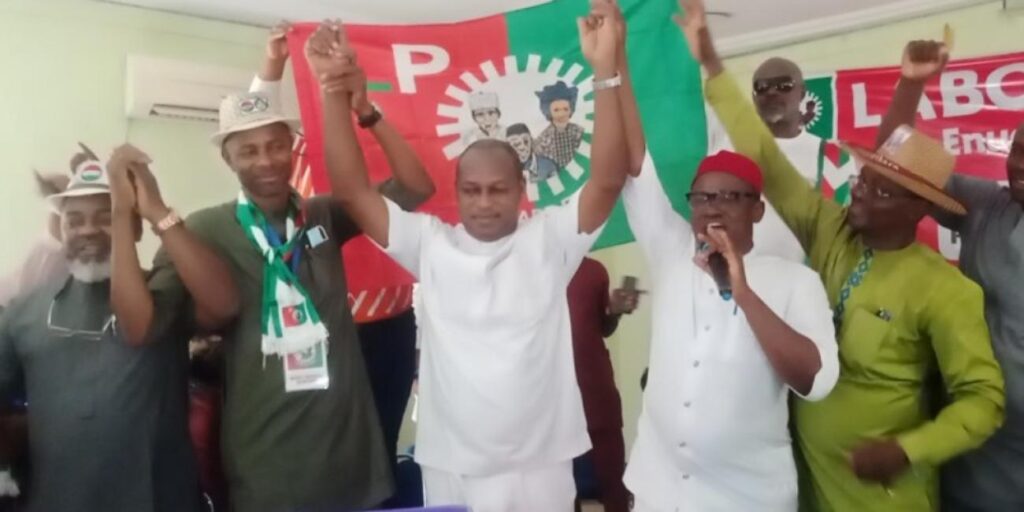 Scores of irate Labour Party supporters had been keeping vigil for two days along the major roads leading to the INEC office after security agents barricaded the main road leading there.
They have vowed to remain there until they reclaim their supposed mandate.
The protesters urged INEC to review the election results from its system and declare the person with the number of highest valid votes as the winner.
The party supporters have been contributing money to buy food and drinks since the vigil began.
Speaking to SaharaReporters on the incident, the State Chairman of LP, Barr. Casmir Agbo, said they were there because they didn't want the Peoples Democratic Party to manipulate the outcome of the election.
"We are here because of the governorship election that PDP is trying to manipulate. We won convincingly in all 17 local government areas of the state. We won by more than 11,000 votes. We have seen the results. The only problem is Nkanu East," Agbo said.
Agbo also said the party won in Nsukka but that the PDP contested the results from Nsukka because they (LP) kicked against overvoting in Nkanu East.
"They have forgotten that during the presidential election, Nsukka gave Labour Party more than 60,000 votes. They raised the Nsukka issue because we raised the issue of Nkanu East," the party chairman pointed out.
The Director-General of Take Back Enugu For Edeoga Initiative, Nnamdi Anigbo, said they would not budge until they reclaim their mandate.
"I'm here because we want to reclaim our mandate irrespective of the fact that some people thrive in illegality.
"The masses want to do the right thing through their votes. They want Nigeria to be better but it is unfortunate INEC is trying to take Nigerians for granted. We are here to show the world that we cannot be cowed.
"This is the second day and we shall be here until justice takes its course. Our resolve is that a new Nigeria is possible – a Nigeria devoid of corruption is possible," Anigbo said.
INEC had suspended the collation and declaration of governorship election results because of incongruity in the results from two local government areas, Nkanu East and Nsukka.
INEC said it suspended the collation of the governorship election results so that it could review the allegations of over-voting and non-use of the Bimodal Voter Accreditation System (BVAS) machines in the conduct of the election in the affected areas.