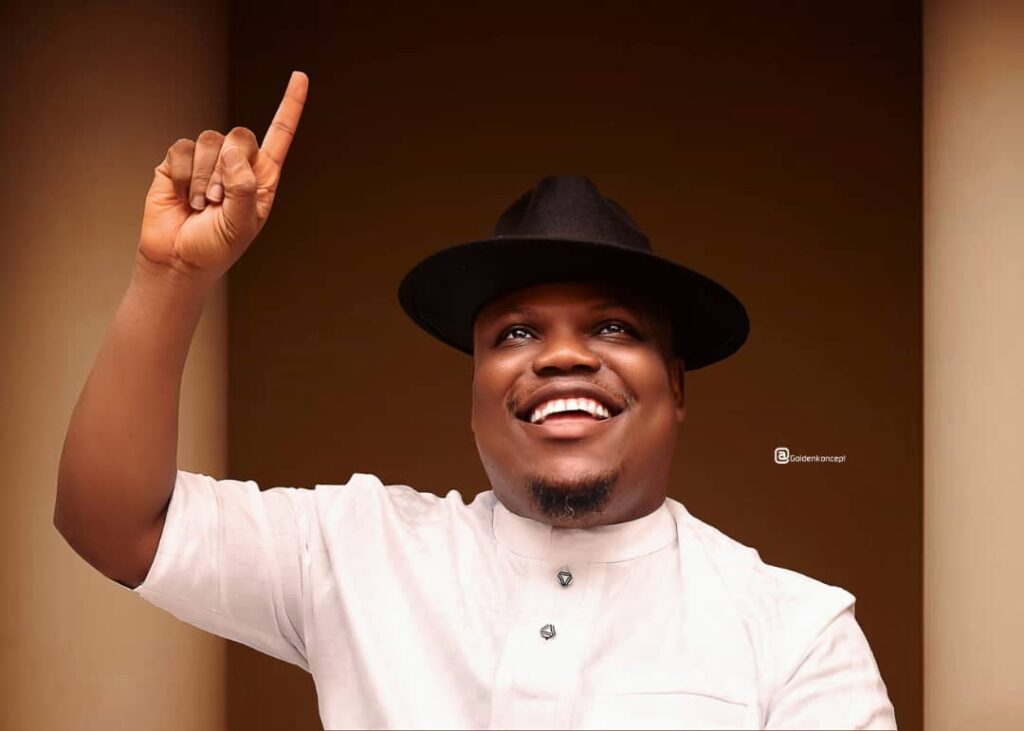 The Peoples Democratic Party (PDP) House of Representatives candidate for Ajeromi Ifelodun federal constituency, Hon Francis Barthlomew Chima aka OmoBarca has expressed gratitude to voters in the area for their support and loyalty.
OmoBarca disclosed this in a press release made available to DailyBlastNG correspondent after the just concluded presidential and national assembly elections.
Read full statement below"
"May you find peace and happiness! I come to you this morning in good faith to thank you for supporting me all the way long. Your criticisms, your advises, your feedbacks and for some who found it very difficult to understand my kind of person and hense misunderstood my style and understanding of life, love, humility and happiness; I thank you all for making me stronger and better. Without you this journey wouldn't have been as intriguing and adventurous as it became.
"My biggest thanks goes to Rita Orji who swore tooth and nail that she must sink the PDP in Ajeromi Ifelodun LGA and Lagos at large simply because the people of our great party didn't want her anymore. Rather than tow the path of a mother she is supposed to be she chose the path of hate and played "witch"against the unity and progress of our party. I hope the National Body (NWC & NEC) have seen what their inactions have done to the overall performance of the Party in this general elections especially towards the excesses of Rita Orji. The era of tolerating nuisance must be put to stop for PDP to regain her prestigious status in the political space in Nigeria. In Ajeromi Ifelodun LGA Rita Orji played anti-party by fielding her agents alongside the authentic agents fielded by the Party thereby doubling our agents in each polling unit causing great commotion and denying us the opportunity to sign or even get access to the polling unit results which aided the manipulation of the election result that stole our smooth victory in Ajeromi Ifelodun Federal Constituency. Even as the results are being declared people have called to ask where and how APC got the votes to be declared winners; all thanks to Rita Orji an APC stooge adorned in PDP attire. I hope that the money they paid her will last her another four years.
"I want to thank those who are also co-conspirators in this Rita Orji's project; The PDP State Secretary who handed her the agent tags knowing fully well that she is not the candidate of the Party in the LGA. Agent tags are party properties and ought to be handed over to the LGA Chairman. Even though our LGA Chairman was there present you still conspired with Rita and gave her the Party agent tags. I am sure you are very happy with the result we have gotten due to your "incompetent performance". Also I am so grateful to the entire PDP State Exco who remained adamant while these vultures (Rita Orji & Wilson Diriwari) were left in the open to eat up life out of PDP Lagos State. God bless you all.
"The future they say belongs to the Youth but I must express my disappointment at the way and manner our youths have allowed these aged politicians to use them to the detriment of their future. Some of us were lazy to go out and get registered to vote while many of us who have their PVCs remained indoors because they felt the sun was so hot and like they normally say "our votes don't count". It is the same price as you and I will buy bread tomorrow so I hope I will not be hearing much complaints from the youths this four years to come. If we really want this country back then we must be willing and ready to make sacrifices. Notwithstanding I thank all the youth that gave their support and also came out to vote. God bless you for me. We still have the future to grab as another opportunity looms in four years time.
"I also want to thank the "most lazy"politician of our time who instead of reaching out to the electorate to convince their conscience to support him spent his resources and time working closely with his allys in PDP; Mr Diriwari Wilson and Rita Orji. These two ended up dragging me to court from June last year not until the 8th of February 2023 just 2 weeks to the election when the Lagos State court.of appeal reaffirmed my candidacy. Notwithstanding, My impact these two weeks within the polity caused so many sleepless nights within your party and caucuses. You might have succeeded in getting this victory by all possible means but I want you to know that Four years is just around the corner. Before you know it, it has come and gone but remember I am still here and by the special grace of God Almighty will be back again so what you do with this little time you have matters a lot. I have indeed learnt a great deal from this encounter so the next will be a smooth ride for me because I know that you will never perform credibly to the people of Ajeromi Ifelodun Federal Constituency because you have never done so in the past and especially since you know that you didn't get that supposed victory with the people's vote you will definitely act reckless.
"INEC indeed is still a work in progress and it is my believe that in few years time they must have improved tremendously in their service delivery. The era of voting materials coming late to polling units, adhoc staff being compromised must be addressed for good. The entire electioneering process must be seen to be without blemish or incompetence. It must be free from illegality, it must show transparency and fairness to all concerned. Our faith and believe in Nigeria greatly depends on the way and manner elections are carried out by the commission since it is the commission's power that produces the calibre of government for the people.
"Let me once again in a special way use this medium to thank the PDP for giving me the platform. I also want to appreciate the gallant TeamOmobarca headed by my DG Hon. Charles Ejimadu for believing in me from the onset and also for working so hard to get us to where we are today. I am indeed indebted to the leadership of the PDP in Ajeromi Ifelodun LGA led by Are Razak Fakunle who not only accepted me for who I am but also fathered me all the way. To the entire PDP family, the LGA Excos, Ward Excos, Zonal Excos and all wonderful members who believed and supported me and my team all the way; I thank you for your unwavering support and commitment towards the Vision2023 project. Please do not lose faith, be strong and resilient for God's time is the best. I still remain a part of you and together we will get it right again. Ajeromi Ifelodun my home, I thank all of you for loving me unconditionally. May God Almighty bless and protect all of you for me in Jesus name.
I have fought a good fight and history will remember my name and the gallantry effort of my team who used only 14 days to campaign in a general elections and still took sleep out of the eyes of the oppositions.
I still remain my humble self Hon. Francis Barthlomew Chima aka OmoBarca, your Rep. any day, any time. Nothing much has changed except for the experience and the new things I have learnt which like I said has made me a stronger and a better person.
Thank you and May God continue to bless you more than you expect, Amen!!!
Long live Ajeromi Ifelodun!!!"