Former Federal Commissioner for Information and South-South Leader, Chief Edwin Clark, has told Governor Ifeanyi Okowa of Delta State to resign from being the running mate of Atiku Abubakar, the presidential candidate of the Peoples Democratic Party, PDP, for this month's presidential election.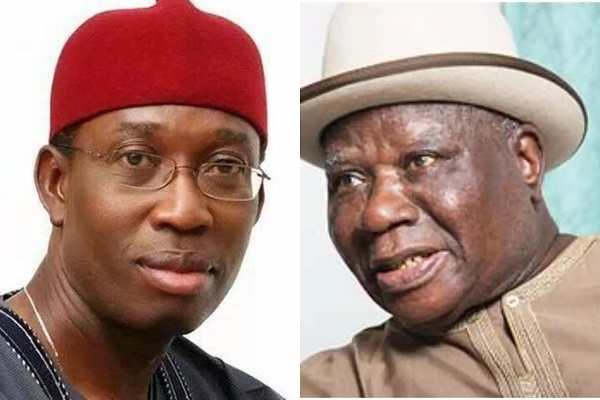 According to Clark, Okowa should apologise to his colleagues in both PDP and APC that he deceived into taking a decision he never believed in.
Clark, in a letter dated February 2, 2023, and addressed to the governor, said that Okowa and Atiku will not win the presidency on a joint ticket.
The statement, made available to journalists, reads in part: "I can therefore understand why you have deliberately and immorally betrayed your colleagues of Southern Nigeria and the people for your own selfish ambition by wanting to land on safer ground by accepting to serve as running mate to Alhaji Atiku Abubakar.
"No, by God's grace, your prayer will not be answered. Perhaps, you've forgotten the gravity of the offence you've committed against the people of Southern Nigeria.
"It's therefore in your own interest to openly apologise to your colleagues of both APC and PDP whom you deceived in taking a decision you never believed in. After your unreserved apology to your people and Southern Nigeria, you should step down your ambition of becoming Vice-Presidential candidate of the PDP. There your honour lies," he said.