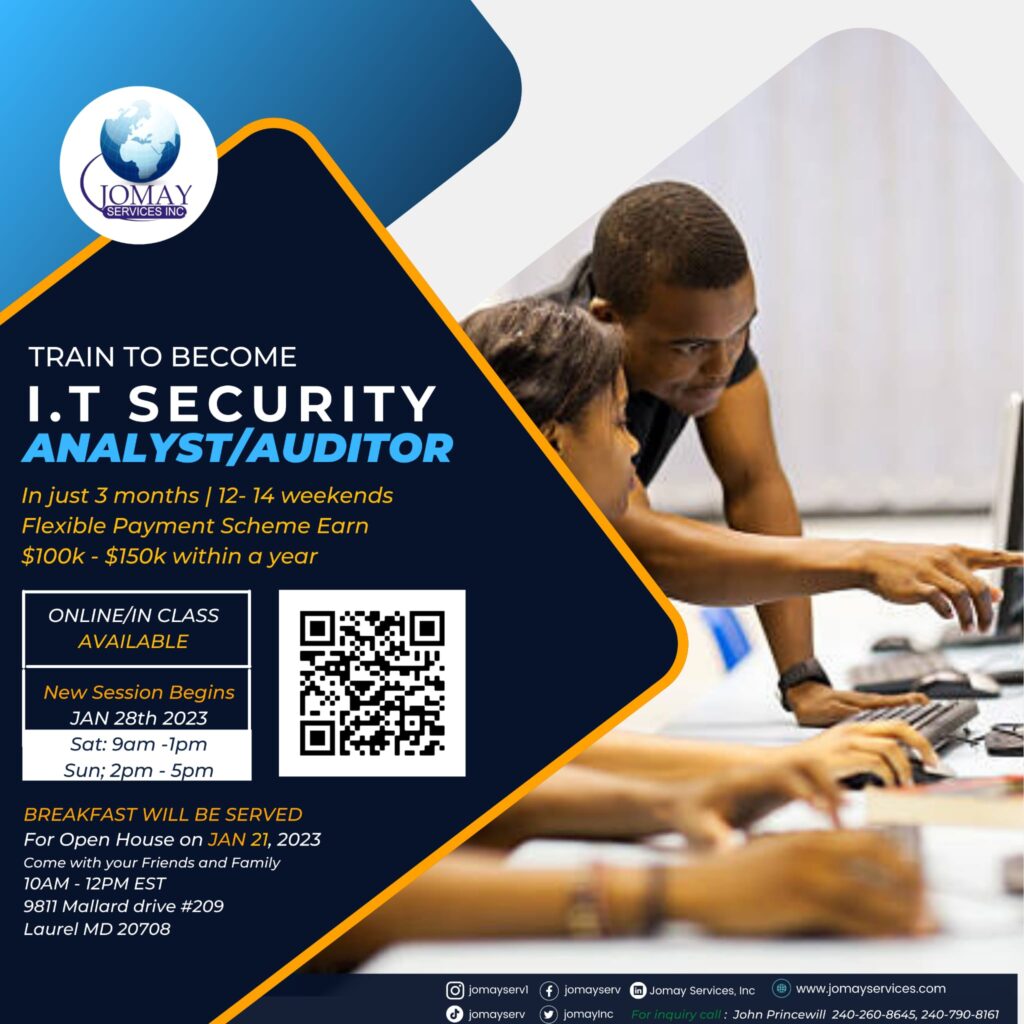 Don't give up on your dream!
We at JOMAY are super excited to have you join our next upcoming IT Cyber Security training. January 28th 2023.
Our IT Cyber Security Training Program is for 14 weekends ( Saturday's 9am – 1pm / Sunday 2pm – 5pm EST)
For those in USA who will like to attend physically, please see the office address on our website-
With CDC guidelines, social distancing is observed and all required PPE will be provided to everyone.
TRAINING COURSE FEE.
The total tuition cost includes the application fee, Tuition fee, resume building, interview preparation, reading materials, and Practicals.
You will need to pay $500 down payment from the total amount and the remaining balance can be made in installment payments of weekly or biweekly or you can also pay the total tuition fee with 5%discount.
INSTRUCTIONS TO REGISTER.
To complete the application
HERE IS THE LINK:
www.jomayservices.com
Click on the click on the professional training to complete the Application form, Agreement term form,
Training Course Price for your payment plans and The online quiz.
TO MAKE PAYMENT.
You can click on the Homepage (www.jomayservices.com) to make your payment through PayPal or we can provide the Nigerian account information to you
👉At Jomay services Inc, we also offer a 10X referral bonus of $200 per person that registers with you.
FOR Online connection-👉 PLEASE DOWNLOAD THE ZOOM APP TO YOUR PC/LAPTOP/IPAD. WE WILL PROVIDE YOU THE ZOOM LINK TO CONNECT
Please feel free to contact me if you have any questions or concerns.
Thank you
Mary Princewill
Administrator
JOMAY SERVICES, INC.
Tel: 080-333-62262 240-527-3755 / 240-260-8645 / 240-790-8161
Email: jomayservicesinc@gmail.com Url: www.jomayservices.com