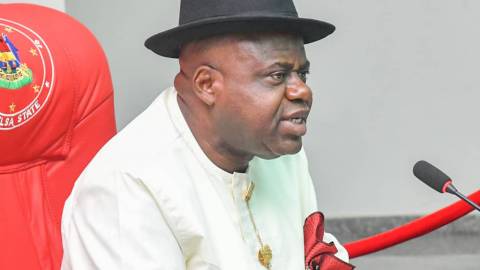 The Bayelsa State Governor, Douye Diri, has said he is a strong proponent of zoning and rotation of the presidency in 2023 to the South of the country.

Diri spoke on Friday when former Vice President and a PDP presidential aspirant, Alhaji Atiku Abubakar, visited him at the Government House, Yenagoa.

According to a press release, the governor noted that no individual political ambition should be allowed to disorganise and disorientate the party.
The governor said, "I am one of the strong proponents of power rotation and zoning and I still believe that power should rotate to the southern part of Nigeria.

"However, our party has taken a decision and there is nobody that is greater than the party. As a party member, I cannot stand above our party. I am carefully choosing my words as an umpire because I am holding a very sensitive position as deputy chairman of one of the electoral committees."

Diri, who described Atiku as one of the strong contenders for the party's presidential ticket, noted that the PDP was more interested in wresting political power from what he described as "the rudderless, directionless and failed government of the All Progressives Congress."
Speaking earlier, Atiku stressed that the PDP must put its best candidate forward in order to wrest power back from the APC.

The former vice president called on the party to brace up and be united for the sake of Nigeria, emphasising that the PDP could not afford to be in the opposition again from 2023.
Atiku said, "We must put our best forward. Meaning who we believe can bring us back to power. It is very important. We must brace up as a political party. We must unite to return our political party back to power. We cannot afford to be in opposition again.

"There must be peace and unity before this country can be governed. That is why I emphasise unity and the need to unify the country. What I mean is that; I am going to give every part, every section, religion and faith, a sense of belonging in this country."