Former Senate President, Anyim Pius Anyim has submitted his completed nomination and expression of interest forms to the Peoples Democratic Party, PDP. In a brief ceremony that lasted two hours at PDP headquarters Abuja, the frontline presidential aspirant made a presentation about his presidential ambition to the National Working Committee of the party. He charged the party leadership to defend the constitution of PDP which makes provision for zoning.
Read parts of his presentation:
"I want to rebuild Nigeria to a country that all Nigerians will be proud of. In all my public career, I have worked under the presidency. I have a master's degree in Law. I joined PDP in 1998 and I have remained faithful to the party. My nationalistic disposition has been established. I have an idea of what the problem is with Nigeria. If you give me PDP ticket, I will win the election and become president of Nigeria. If I run this country for one year, and you don't see the difference between light and darkness, Mr Chairman recall me. As a true party man, I will implement the manifesto of PDP. I will address the political, economic and social problems of Nigeria. I will set Nigeria on the path of growth and peace.
"We must operate democracy in Nigeria by formulating policies that will secure the buy in of the people. Consensus building shall be the hallmark of my administration. We must get the political foundation of Nigeria right. We will develop economic policies that will guarantee market based solution because an oil based economy is no longer sustainable. We must highlight the problems and commit to addressing them. We shall promote industrialization, talent and innovation, science and technology. We must capture the challenge of unemployment from the source. We must secure gainful employment for our youths. We will deploy science and technology in handling security in Nigeria. To reposition Nigeria, I will ensure national integration and harmony.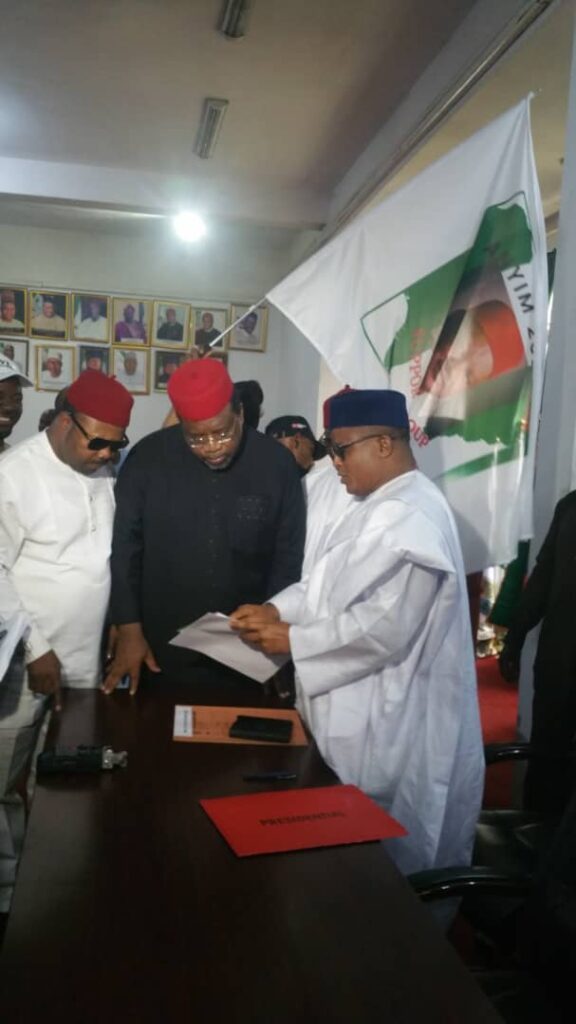 "Poverty, hunger, deprivation has weakened the confidence of our people. We shall run an all inclusive govt and promote strong institutions in Nigeria. Citizens shall play active role in policy formulation. Zoning being a fundamental principle of our party should not be jettisoned. We must defend the section of our party constitution that reflects zoning." Anyim said while addressing the National Working Committee of PDP.
Responding, the PDP National Chairman, Senator Iyorchia Ayu on behalf of the NWC thanked Anyim Pius Anyim for his eloquent presentation and concluded that it can only come from a PDP aspirant. He thanked Anyim for presenting his letter of intent to the NWC. He noted that PDP so far has 17 presidential aspirants so far. He prayed that all the aspirants work together to give the party victory in 2023 election. He stated that PDP has so much capacity to lead Nigeria. He noted that the presidential primaries will be transparent as the party has done since 1999. He said that Anyim inspires hope.
Senator Samuel Anyanwu, the National Secretary gave the vote of thanks and wished Anyim well in his campaign activities.