In the build up to 2023 elections, former Senate President and PDP presidential aspirant, Anyim Pius Anyim has met with the National Assembly caucus of his party.
Anyim was at the National Assembly to seek the support of PDP members in both the upper and lower legislative chambers. This meeting has since opened doors for other presidential aspirants.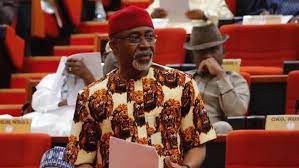 Following Anyim's footsteps is former vice president, Atiku Abubakar who recently visited the National Assembly to declare his intention to run for presidency.
Atiku's visit has since been misinterpreted in some quaters to mean a political endorsement by the PDP caucus.
Senator Enyinnaya Abaribe has debunked the endorsement.
He said:
"Just like SenatorPius Anyim visited the caucus, Atiku met separately with PDP caucuses on the 2nd and 3rd March respectively. In what way is that an endorsement? Since I declared to run for Abia governorship there has been efforts to find reason to discredit me. Why did the writers not also say that Ndudi Elumelu endorsed Anyim. When Anyim met us it was also reported that we endorsed him."
Abaribe is also contesting for governorship in Abia State