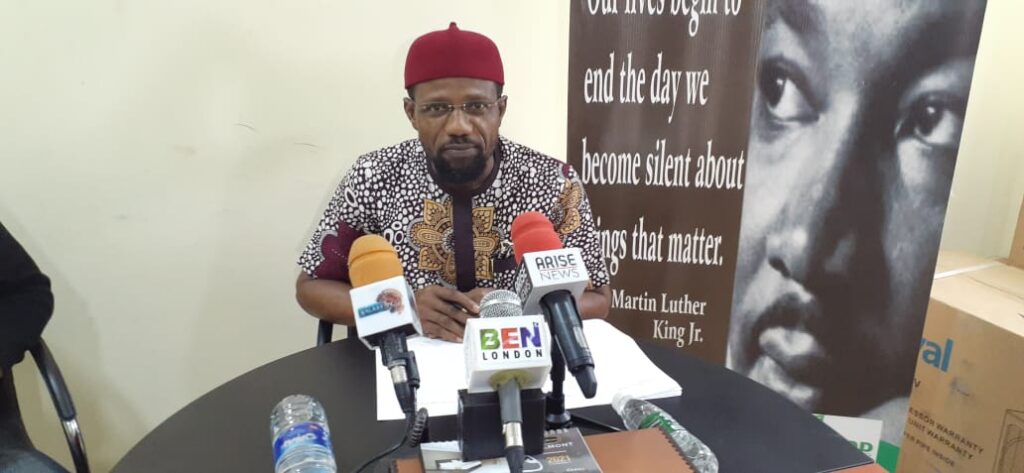 The attention of Indigenous People of Nigeria has been drawn to a statement credited to one Alhaji Hakeem Baba Ahmed, a self-styled spokesman of Northern Elders Forum, claiming that the North has exclusivity of the seat of President of the Federal Republic of Nigeria, in his day dreaming that "they" have the numbers.
It is unfortunate and saddening that Alhaji Hakeem, a migrant Fulani man from Mauritania, claims to be speaking the minds of the indigenous Nigerians of Northern extraction on the subject that he is not even qualified to speak about.
It is an undisputed fact that at no time did Alhaji Hakeem sought nor received mandate of Northern Nigerians to speak for them on the 2023 Presidential race.
In fact, the Fulani ethnic community, which Alhaji Hakeem is using to disguise as North, is actually a minority ethnic group in Nigeria, hence, cannot solely determine which ethnic nationality gets what, when and how in Nigeria.
For the sake of emphasis, the Hausa ethnic nationality is the predominant group in Northern Nigeria.
More over, the North, which Alhaji Hakeem seeks to misrepresent, is no longer homogenous nor conquered enclaves of the minority Fulani ethnic nationality in Nigeria.
It is sad that Alhaji Hakeem, a man from faraway Mauritania, will be allowed by respected leaders in the Northern Elders Forum to use their platform to push for ethnic bigotry that is capable of making other ethnic nationalities of Nigeria become antagonistic of indigenous Nigerian Fulanis.
IPN, therefore calls on all Nigerians, especially people of Fulani stock, to reject Alhaji Hakeem and his bigotry, and embrace the call for power shift to Southern Nigeria after the presidential tenure of the incumbent President, Muhammadu Buhari GCFR.
IPN, further uses this platform to caution Alhaji Hakeem against making unguarded utterances and stoking ethnic tension that will consume innocent indigenous Nigerians in pursuit of his selfish political agenda.
We cannot tolerate hate speech from Alhaji Hakeem because while he has Mauritania to run to in time of crisis, we the indigenous Nigerians have no other country to run to.
We therefore note that ignoble elites like Alhaji Hakeem and his cotravellers may be responsible for the spate of terrorism (banditry), insurgency and other security challenges bedevilling the Northern part of the country.
IPN further restates its earlier stance that in the interest of Peace, Equity, Fairness and Justice, the Southern part of the country should be supported to produce Nigeria's next president come 2023, particularly from the SOUTHEAST.
Conclusively, IPN commends patriotic Nigerians across the country, including elder statesmen and traditional leaders, that are working painstakingly to rescue Nigeria from the maladministration of President Buhari, and urges all Nigerians to continue to put every mechanism in place to ensure that the country is salvaged from its present precarious state.
Thank you.
Signed:
Mazi Nnamdi Iroegbu
Convener: Indigenous People of Nigeria (IPN)