In a very colourful ceremony attended by dignitaries from across Nigeria, Prince Tshola Emiko was today crowned as the 21st Olu of Warri. He is now the, Ogiame Atuwatse III, traditional ruler of the Itsekiri ethnic group.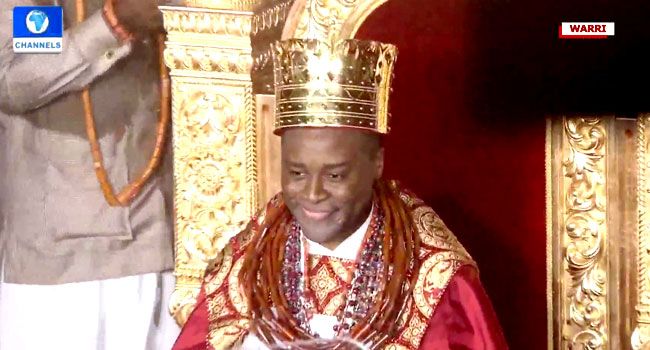 The ceremony took place at Ode-Itsekiri, the ancestral home of the Itsekiris in Delta state. One of the high points of the event was the selection of a ceremonial sword by the Olu while being blindfolded. He picked the sword with the title, Atunwase. His father was ATuwatse II.
Before the coronation, a boat regatta was held to the admiration of all in attendace.
Dignitaries at the ceremony include the Deputy Senate President, Ovie Omo-Agege, Ooni of Ife, Oba Ogunwusi, deputy Governor of Edo state Phillip and many others.
Ogiame Atuwatse III, a descendant of Olu Akengbuwa, was born on April 2, 1984, in Warri to the then Prince Godwin Toritseju Emiko, who later became the 20th Olu of Warri, Ogiame Atuwatse II, and Gladys Durorike Emiko.