The Federal Government has recalled Nigeria's Ambassador to Indonesia, Usman Ogar, following the assault and harassment a Nigerian diplomat suffered in the hands of immigration officials in the Asian country.
In the viral video, the victim, whose name was not mentioned, was being manhandled and arrested by at least three Indonesian immigration officials in front of his official quarters in the Asian country.
Minister of Foreign Affairs, Geoffrey Onyeama, who announced Ogar's recall for consultations at a press briefing in Abuja, on Tuesday, also stated that the government would review the bilateral relations between Nigeria and the Asian country.
Onyeama said when the ministry saw the video of the diplomat who was being restrained by Indonesian immigration officers in a moving car on social media, it immediately contacted the ambassador in Indonesia, who gave a verbal account of what transpired.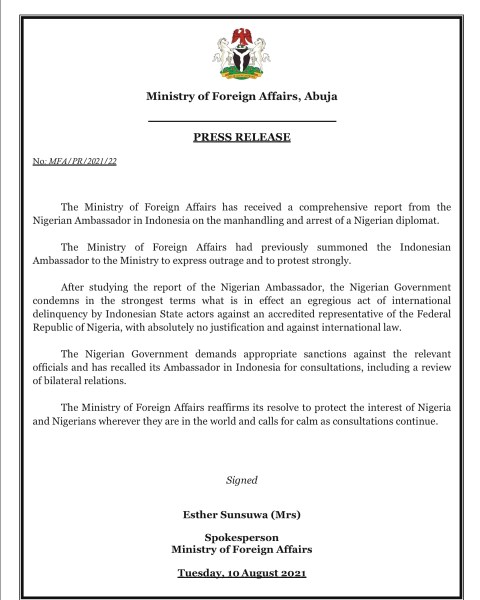 The minister added that the envoy confirmed that the video was indeed of a Nigerian diplomat in Indonesia, noting that the illegal action took place during a round-up by Indonesian immigration officials searching for irregular migrants in the country.
He said, "What we have decided to do is to recall for consultations immediately our Nigerian ambassador in Jakarta, in Indonesia, and we will have full consultations at the highest level and decide what next step to take, including a review, of course, of our relations with Indonesia."
Onyeama stressed that the action of the immigration officers was a clear breach of the Vienna Convention, adding that it was "an act of egregious international delinquency."
"The Nigerian government also requested that the Indonesian government take severe and appropriate sanction against the immigration officials that were involved in the act of brazen criminality," he added.