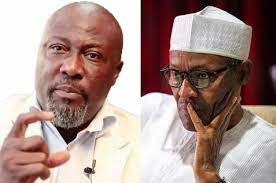 Dino Melaye is trolling President Buhari who is currently in the UK attending a Global Education Summit.
The Nigerian President arrived in London on Monday, July 26, and Dino says he wonders why the President is attending such a summit that would have intellectual persons in attendance.
See Dino's post and Watch the video he shared on his Instagram page below…
"It is very very funny that President Muhammadu Buhari has gone to London to attend the Global Education Summit. It is funny and it is putting Nigeria in a very bad shape because I am wondering what will President Buhari be discussing in a Global Education Summit.
This is a man that has a Secondary school certificate, a school cert failure and unfortunately that certificate is even missing. We have not seen it, there is no copy of it.
If you are going to a Global Education Summit where you have professors emeritus, where you have intellectually mobile characters, where you have people wit