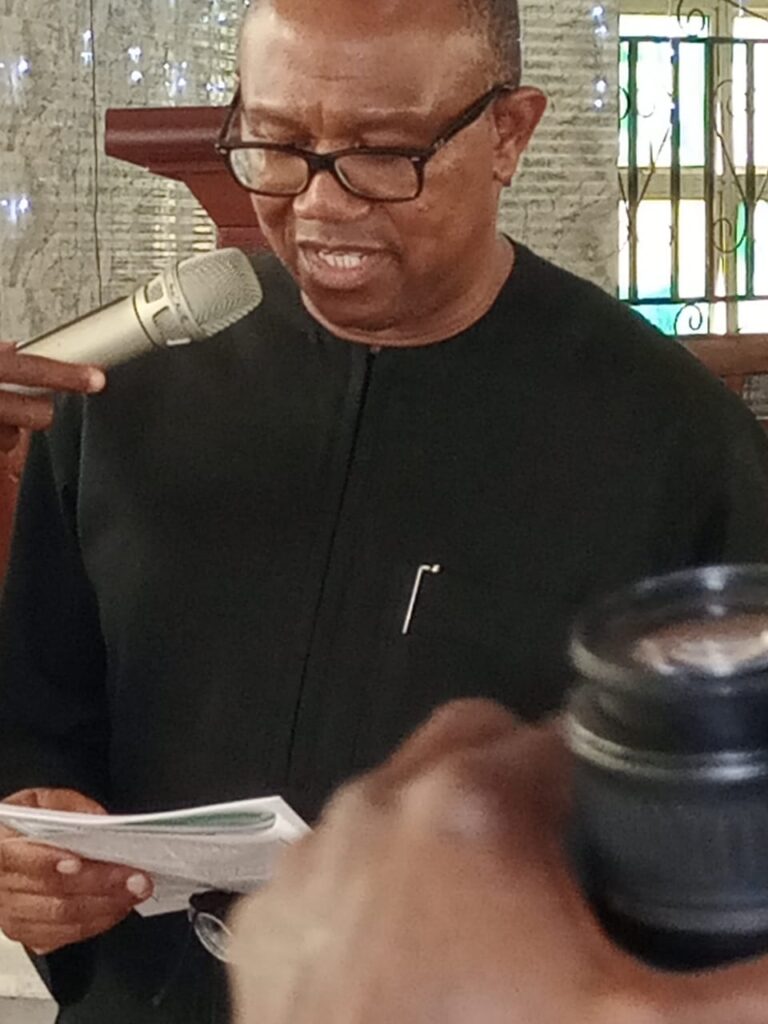 By Tai Emeka Obasi
Had the excesses of man not invaded the actions of some elements in Anambra State years back, His Excellency Peter Onwuabasi Gregory Obi would have become a governor of the tough state at the tender age of 41.
But though delayed and at times even cajoled for three years, his destiny couldn't be denied. Subsequently, he entered history books in many aspects of the eight eventful years that trailed his moments as an exceptional servant of the people of his dear state and humanity at large.
Yesterday, he kicked off his ever humble and low-key ways of marking the remembrance of his birth with a Thanksgiving Mass at St. Aloysius Church of Divine Mercy, the Chaplaincy of The Recdot Centre at Ozubulu. Recdot is the home for orphans, physically challenged and the tramp.
The mass was presided by the Catholic Bishop of Minna, Bishop Martin Uzoukwu, assisted by Rev. Fr. Theo Odunukwe.
Bishop Uzoukwu remarked that it had been established beyond question that the man being celebrated did very well while occupying public office, setting a standard by which, if judged, can be affirmed that things are no more the same. He prayed to God to elevate Obi to a position that will make it possible for him to rebuild Nigeria.
In his response after the mass, the man we call Okwute, who took the second reading, beckoned on the men of God to always pray for our leaders so that God will always touch them to be using people's money for the provision of people's needs.
In company of the former first lady, his delectable wife, Mrs Margaret Obi, many other well wishers, particularly his ex-commissioners and aides while in office, led by Prof Stella Okunna and anchored by Dr. Patrick Nky Obi were equally present. Also present was the PDP gubernatorial candidate for coming election, Valentine Ozigbo and his wife.
From Recdot, Okwute moved to St. Felix Catholic Specialist Hospital, Nnewi as part of his birthday visit, donated N2 million to assist them in upgrade with a firm promise to assist them further based on the challenges facing the hospital.
He repeated the call that we should all be praying to God to touch the hearts of our leaders so that they use people's money for the well-being of the people. He added, "there may not be enough money to do everything but there's certainly enough in our country to do many things.'
From here he went to the Anglican Diocesan Hospital, Akwudo, Nnewi and also donated N2 million to assist upgrade and maintenance of standard.
He then led the way to his residence in Onitsha where a sumptuous lunch oiled the mood.
Noticeably, the PDP gubernatorial candidate of last election, His Honour Oseloka Henry Obaze, whose wife, Dr. Ofunne Obaze represented all the way from the church service, joined the party at this juncture.
After the toast to a jolly good fellow, the man at the centre of it all took over. He went characteristically philosophical in attaining the important age of 60 and the challenges of past, present and future.
From his speech to that special congregation of about 25 people, one could see a man who …
Is excessively humble, ever simple and exceptionally reliant on the Almighty to drive the cause of his contributions to the development of mankind.
Believes that whatever you do will not escape criticism. That when one decides not to get involved in contentious issues, people will blame him/her for not acting. When one gets involved to bring his knowledge and experience into settling contentious issues, same society will still blame him for favouritism of one divide or the other.
Believes that irrespective of such life's conundrum that one must act when he/she should and act in ways that should please God and benefit the future of mankind.
Believes that any adversity one meets on his/her way is a lesson and usually a blessing that when well explored leads to greater fortune.
Does not believe that one should spend time ruing any misfortune as the activities he/she went through are sure ingredients needed to soar even higher.
Recounting the processes of his impeachment, he was emphatic that he couldn't have served Anambra for eight years if he wasn't impeached after just few months into his first tenure.
He took time to narrate that it was the very judge, who had looked at the reasons he was impeached as just that he saved his state huge sums of money and started a rare process of accountability and prudence in public office that promptly nullified his impeachment…the same judge was in charge at the Supreme Court when his Tenure Interpretation case landed on the table. The same judge who had earlier noticed that this young man had something pleasantly different to offer in governance also rightly returned him to complete four years as affirmed in the country's Constitution. This was after Andy Uba had already been sworn in as governor of the state and both the High and Appeal Courts had earlier dismissed the Tenure Interpretation case.
"If I wasn't impeached I couldn't have met that judge who made it possible for me to complete my first term and subsequently another four years," he concluded on this segment.
This great man is looking quite strong and evidently getting wiser. He further emphasised that he will continue to celebrate his birthday for one full year by visiting and assisting as many institutions that need assistance around the country as possible. He also informed he has attracted both foreign and local interests that would assist in this regard.
As he continues to give to and impact mankind, we all pray for his well-being in living his life according to His wishes.
HAPPY BIRTHDAY TO THE MAN WHO CAME FAR AHEAD OF HIS GENERATION.