The Vatican announced Sunday that Pope Francis has gone to a Rome hospital for a scheduled operation to address a stenosis, or potential narrowing, of his large intestine. A Holy See spokesman said the surgery would be performed Sunday, with more information following.
The Vatican said the operation — officially, for diverticular stenosis of the colon — will take place at Gemelli hospital, performed by Sergio Alfieri, a specialist in the colon, rectum and stomach. The Vatican did not provide a timetable for the pope's recovery.The surgery marks a rare health issue for the 84-year-old pontiff, who has been remarkably durable and routinely holds events or meetings at least six days a week. Francis on Sunday morning held his usual Angelus blessing and had not mentioned the operation.
But a week earlier, he had notably emphasized that he needed spiritual support.
"Pray in a special way: the pope needs your prayers," Francis had said.
Francis had not been slowed in the days leading to the announcement. On Thursday, he hosted a delegation from Lebanon, aiming to address the country's crisis, and Friday he met with the prime minister of Iraq.
But he is also at an age when any surgery is noteworthy. He is just as old as Pope John Paul II was at the time of his death. And he's one year shy of Benedict's age when the former pontiff stepped down, citing failing strength of "body and mind."
Francis has not undergone any other known surgeries as pontiff, but he has breathing problems stemming from an illness as a 21-year-old in Argentina. Francis's illness was misdiagnosed as the flu, and he was eventually hospitalized, with fluid in one lung, "hanging between life and death," the pope said in a book by papal biographer Austen Ivereigh. He eventually had part of one lung removed.
Francis more recently has dealt with several flare-ups of sciatica, which causes leg and back pain and have forced him to cancel a few events this year.
It is unknown for how long the pope might be hospitalized, but Francis had said Sunday — before the surgery — that he would be traveling to Hungary and Slovakia in mid-September. Several days earlier, the Vatican had said that Francis's regular Wednesday audiences with the public would be suspended for the rest of July; that announcement cited the "usual summer break."
Francesco William Guglielmi, head of the gastroenterology unit at a hospital in Barletta, in southern Italy, said the procedure — as described by the Vatican — was fairly standard, and in some cases can even be treated laparoscopically.
"It's a tranquil surgery," said Guglielmi, who was speaking generally and did not have specific information about the pope's case.
He said the condition amounts to an inflammation of the colon that can lead to scar tissue and a narrowing of the intestine's internal walls.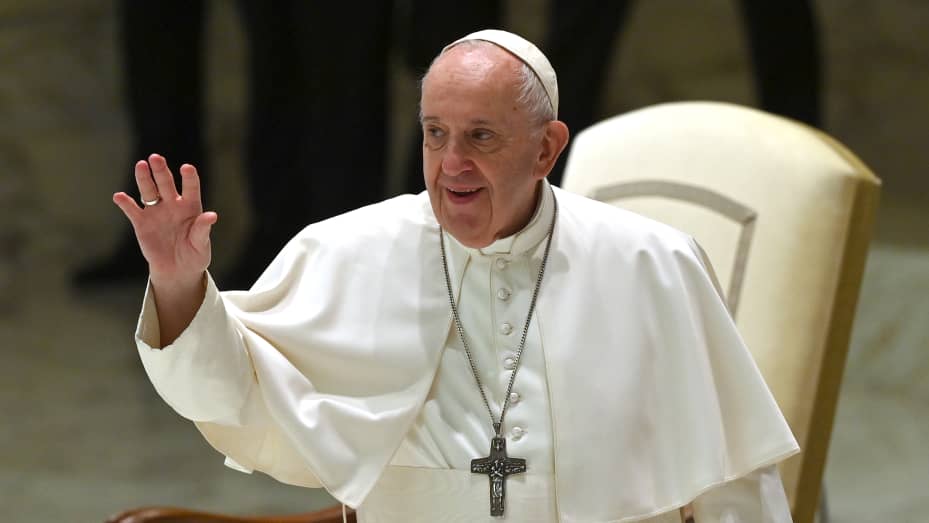 "If he is undergoing surgery now, it means he has been suffering this for a while," Guglielmi said. "If it has been planned, it means you decided to proceed to get rid of this restricted section."
Another Italian surgeon, who spoke on the condition of anonymity to discuss the case of somebody who was not his patient, said that in general, people remain hospitalized for five to seven days after such an operation, and then "little by little you reacquire your normal habits." But he said the recovery time depends on whether the surgery is laparoscopic, or whether a larger incision is required. The age of the patient is also a factor, he said.
Italian President Sergio Mattarella relayed the thoughts of all Italians, along with his own, in a statement wishing for a "swift recovery." He said Italians were "accompanying Your Holiness in these hours."