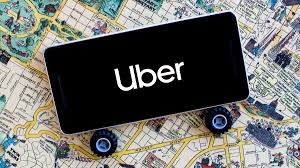 Uber drivers must be treated as workers, not self-employed contractors, the Supreme Court has ruled in a landmark decision which could have far-reaching implications for millions of people in the UK's gig economy.
The country's most senior court rejected Uber's appeal against an earlier decision after legal action brought by two drivers, James Farrer and Yaseen Aslam.
Mr Aslam said he was "overjoyed and relieved" about the ruling which brings a six-year legal battle with the ride-hailing app to an end.
The decision means tens of thousands of Uber drivers are set to be entitled to the national minimum wage, holiday pay and whistleblower protection.
Uber had maintained throughout the long-running court battle that drivers using its platform were independent contractors and therefore not entitled to a range of employment rights.
Uber said it had made substantial changes to its app since 2016 when the case began and the court's decision applied only to a "small number" of drivers.
But the court was stinging in its criticism, stating: "Laws such as the National Minimum Wage Act were manifestly enacted to protect those whom parliament considers to be in need of protection and not just those who are designated by their employer as qualifying for it."
The object of the ride-hailing app's contracts was "precluding a driver from claiming rights conferred on workers by the applicable legislation", the justices said.
Paul Jennings, a partner at Bates Wells, who represented the drivers in the case, told The Independent that other gig economy firms would need to reconsider their business models.
"There are 45,000 to 50,000 drivers who operate in London in the way discussed in the judgment and what's already being prepared is a very large class action for back pay," he said.
"More broadly, there are four to five million people working in the gig economy and there are clear parallels between how the businesses in this area work.
"This is the first Supreme Court decision on the gig economy and it sets clear guidance down for those other operators and has a really broad set of implications."
Mr Jennings added: "If they are similar [to Uber], they either change how they operate or they take on a very big risk. I think all employers in this space need to think very carefully about the content of this judgment."
The judges found that Uber exerted control over drivers in a number of ways.
The company had complete control over setting fares, drivers had no say over any terms under which they contracted with Uber, and had only limited ability to reject fares.
Russell Dann, an associate Clarkslegal, a law firm that was not involved in the case, explained: "The Supreme Court found that this showed that the drivers were in a subordinate and dependent position relative to Uber, which controlled the relationship.
"The drivers had very little opportunity to improve their position using entrepreneurial or commercial skill. The only way for drivers to earn more was to accept more fares."
Lawyers said Uber now faces a barrage of compensation claims for holiday pay and unpaid national minimum wage.
Alexandra Mizzi, legal director at law firm Howard Kennedy, said: "Businesses can't have it both ways; if they want to protect their brand through tight quality control, it's more difficult to claim that the individuals providing the service are self-employed."
The decision means that Uber will have to consider its drivers workers from when they log into the company's app until they log off, not just when they have a passenger in their car. Drivers must therefore be paid at least national minimum wage for those hours.
During the pandemic, some drivers say they have seen their income from fares plummet to below the costs of running their car.
The classification of workers, in English law, is distinct from being an employee – a status which confers additional rights. Unlike workers, employees are entitled to paternity and maternity leave and pay, as well as redundancy pay. They also have the right not to be unfairly dismissed.
Employment rights campaigners and unions have long argued that employment law must be updated to reflect how online platforms have radically changed the way many people work.
Jamie Heywood, Uber's manager for northern and eastern Europe, said: "We respect the court's decision which focused on a small number of drivers who used the Uber app in 2016.
"Since then we have made some significant changes to our business, guided by drivers every step of the way. These include giving even more control over how they earn and providing new protections like free insurance in case of sickness or injury.
"We are committed to doing more and will now consult with every active driver across the UK to understand the changes they want to see."
TUC general secretary Frances O'Grady described the ruling as an "important win for gig economy workers and for common decency".