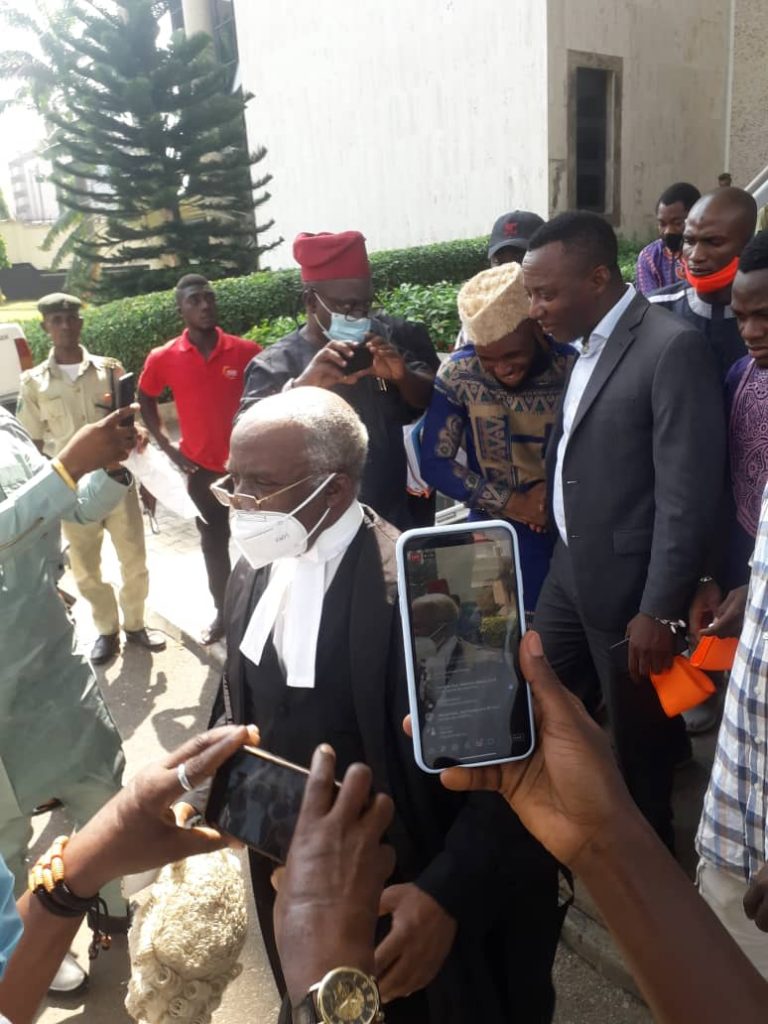 The trial of Omoyele Sowore and Olawale Bakare resumed today at the Federal High Court Maitama, Abuja presided over by Hon. Justice Ijeoma Ojukwu.
Mr. Femi Falana (SAN) the lead defence counsel cross examined the prosecution witness who is personnel of the DSS that arrested Sowore in August, 2019.
Falana sought to find out why the 1st defendant was arrested in the midnight? Why was he tortured during the arrest? Why was he not allowed access to his lawyer as he demanded?
The prosecution witness PW1 could not offer satisfactory answers to Falana's questions.
The lead counsel asked again:
"Did anybody engage in violence when Sowore propagated Revolution now in Lagos? Did he say there will be a revolution on the 5th of August 2019? Were there protests on the 5th of August, 2019 in Lagos, Ogun and Cross River State? Where was Sowore on the 5th of August? Was there a revolution in any part of Nigeria on the 5th of August to your knowledge?"
The DSS witness answered, "No" to the above questions.
The Senior Advocate of Nigeria then fired the next question:
"Are you aware that Muhammadu Buhari in 2011 called for a revolution in Nigeria like the Egypt revolution? Are you aware that there was an overthrow of the Shehu Shagari government on the 31st of December 1983?"
The prosecution counsel objected that the question is not relevant.
Falana said the question is relevant because Buhari led the revolution that overthrew a democratically elected government in 1983. Justice Ijeoma Ojukwu ordered the witness to answer the question.
The PW1 who claimed to be in primary school at the time answered that the coup of 1983 was a historical matter.
Falana continued:
"Was Buhari charged with treason for that? Or treasonable felony?" Witness can't recall.
"Are you aware that RevolutionNow protesters were charged with unlawful assemble?" Witness said yes.
"Are you aware that they have been discharged and acquitted because they committed no offence by a court in Lagos? Are you aware that the protest of 5th of August 2019 was declared legitimate and damages of N1m awarded by the court? Are you aware that Sowore's handsets was seized by your team and has not been returned to him?"
The matter was adjourned to 25th January, 3rd & 5th February, 2021 for continued hearing.