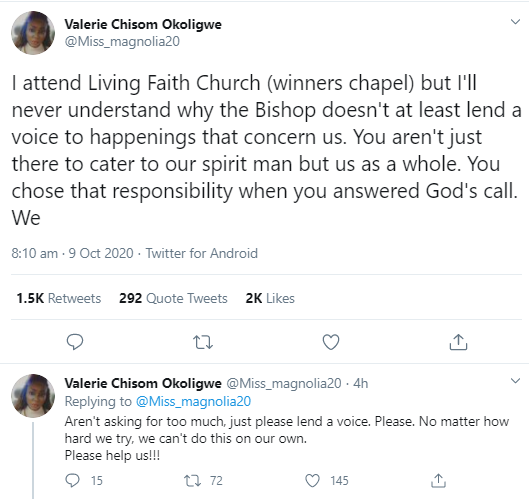 A member of Living Faith Church, aka Winners Chapel, has called out the religious leader of her church, Bishop Davide Oyedepo, for not lending his voice to the issues Nigerians are currently facing.
Valerie Chisom Okoligwe's tweets caused Bishop Oyedepo's name to move to the top of the trends table on Twitter.
She tweeted: "I attend Living Faith Church (winners chapel) but I'll never understand why the Bishop doesn't at least lend a voice to happenings that concern us. You aren't just there to cater to our spirit man but us as a whole. You chose that responsibility when you answered God's call.
"We aren't asking for too much, just please lend a voice. Please. No matter how hard we try, we can't do this on our own. Please help us!!!"
She added: "I won't let you sniveling cowards derail the conversation. I hold Bishop in the highest regard but its high time ALL religious leaders help us by lending a voice with their massive platform. We can't win this fight on our own, its not possible. We need all the help we can get."