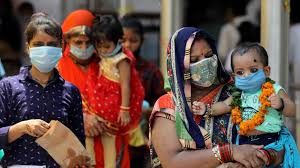 India's coronavirus cases surged past five million on Wednesday after the federal Ministry of Health reported a single-day jump of 90,123 cases over the last 24 hours.
India is only the second country in the world to confirm more than five million cumulative cases after the United States.
The country's death toll from COVID-19 rose to 82,066, the ministry said, after 1,290 people died from the disease in the last 24 hours.
India's caseload is closing in on the US, which has reported more than 6.6 million cases, and with the outbreak still spreading is expected to surpass it within weeks.
India reported a record daily high of 97,570 cases on September 11 and has added more than one million cases this month alone.
Experts warned that India's COVID-19 fatality rate could increase in coming weeks with lockdown restrictions relaxed except in high-risk areas.
But authorities ruled out imposing a second countrywide lockdown as recoveries were growing at more than 78 percent.
India's COVID-19 fatality rate is 1.6 percent, much lower than 3 percent each in the United States and Brazil, according to the Johns Hopkins University.
Dr Gagandeep Kang, an infectious diseases expert from Christian Medical College in Vellore in the southern Indian state of Tamil Nadu, said the number of cases increasing in India was inevitable.
But the country still had the opportunity to try and restrict cases through a strategy of testing and isolating the affected places.