Vice president Yemi Osinbajo had taken to Twitter to wish Prof Wole Soyinka a happy 86th birthday. He concluded the message by adding that the Nobel laureate should live to see the Nigeria of his dreams. The last sentence irked Twitter users who felt insulted. Here is the tweet and some of the replies he got: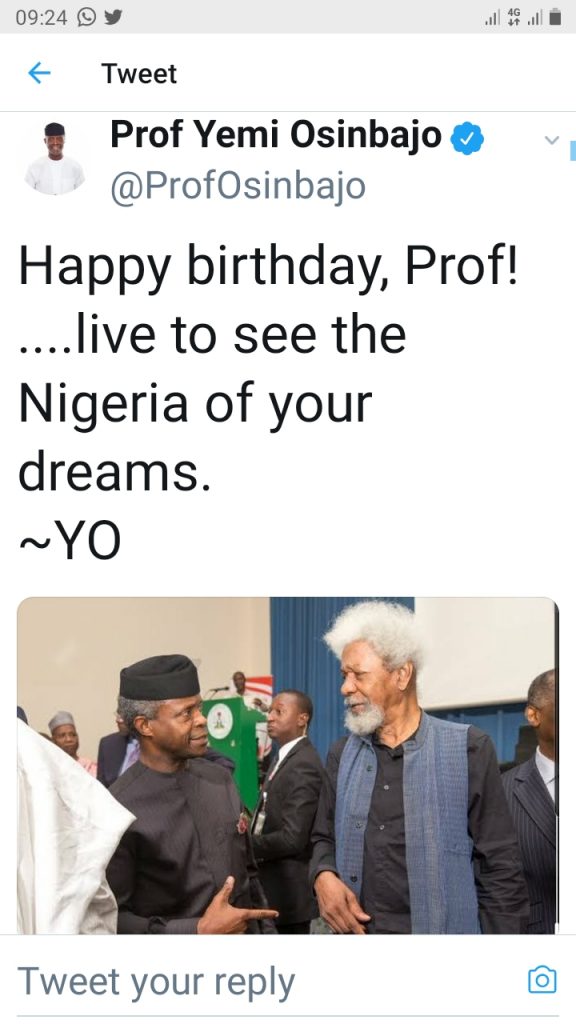 Wishing professor wole soyinka to Live to see the Nigeria of his dreams is nothing but aMOCKERY AND A FALLACY.The fact is even WE in our early 40's can never seethe dreams of our fore-fathers in another 40years. NIGERIA IS POPULATED ENOUGH TO BE DIVIDED INTO ANOTHER 4 COUNTRIES.
This useless expired British company can never be of his dream. I can't even wish my enemy Nigeria ooo. Please live long to see ODUDUWA
The Nigeria dream he has not seen since years, is it now that the leaders are even re-looting loot ?even this VP is being fingered for multiple fraud
With this government sending us years back? It's harder to believe that prayer with this government o
Can't even try to engage you in a tweet. You are not who or what you claimed to be apparently. I guess we'll have to be our own leaders because people like you in your generation couldn't show us the way
Nigeria…? Dream….? Can those words ever feature positively in same sentence? Especially with your generation? So many questions?
How? When? Impossible…
As unreliable as bet9ja is, I still believe in it more than Nigerian Government, no hope in this country again. Pesin wey dey catch looters self they loot. Mtcheew
Lol is he a joke to you. Our grand kids would be lucky to see a Nigeria of his dreams. All na yarns sha
@ProfOsinbajo Happy birthday to him. But how will he see the Nigeria of his dream with corruption allegation and cases hanging on the neck of almost all our political leaders both appointed and elected.
What have we (ordinary citizens) done to deserve these kind of leaders???.