THE 3 PATHWAY TO 60 MILLION NAIRA UNLIMITED OPPORTUNITY:
The LeonardoBySujimoto Real Estate Investment.
There are 3 Pathway, Open Opportunity to invest and own a shared benefit, unlimited ownership deal Within the Leonardo By Sujimoto
This Proposal Dubbed as the most affluent neighbourhood in Africa, in the heart of ikoyi, Banana Island which houses the 1% of the 1% ultra-wealthy persons in Nigeria, thereby making it the must attractive investment opportunity in Africa.
LeonardoBySujimoto Property is seating in a 1000sqm land mass at a costs between N600 to 750 million, the same size of land cost N200 million less immediately you step out of Banana Island gate, and in other parts of Ikoyi, the same land size cost N300 million. Banana Island is one of the most; if not the only expensive individual residential home to the wealthiest people in Nigeria, people like Mr. Wale Adenuga, MDs of Multinationals, Executive Directors, Billionaires and Music Entrepreneur – Davido, to mention a few.
The limited land space at the Banana island outstandingly scars, today the Banana Island is described by Forbes Africa as the 2nd safest growing landmass in Nigeria, second only to Aso Rock, therefore the LeonardoBySujimoto luxury structure is conducive, save and profitable venture, any individual, Agency and/or corporation seeking comfort, security and sustainability, also in value is the ROI attached to all the properties in Banana Island which makes it to keep rising in economic and liquidity value.
Quality:
There are three competitive area surrendering the Banana Island: Ikoyi, Eko Atlantic, and Badminton, which holds the high and the might of Lagos Resident, the apartments are mostly in 3 – 4 bedroom and duplex usually sold/leased out!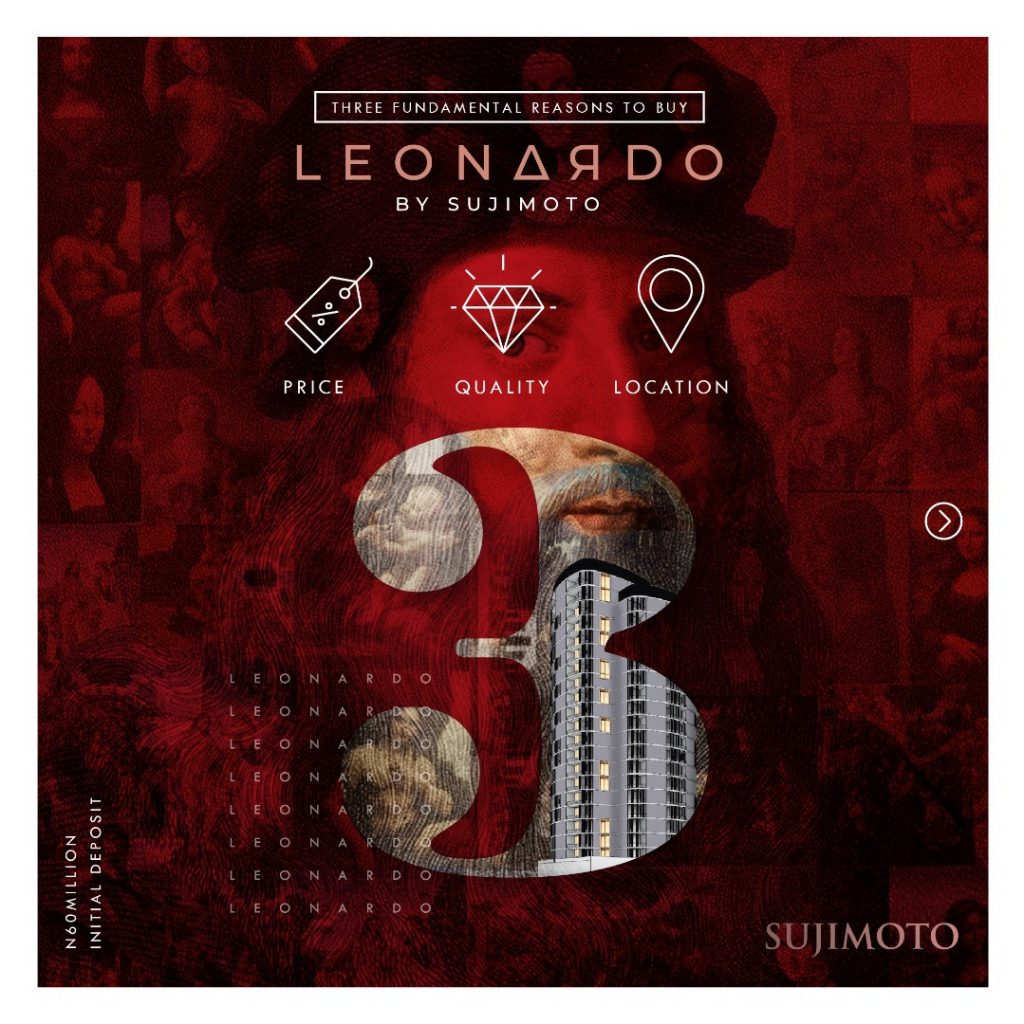 Though the most expensive apartment within Ikoyi and Eko Atlantic have the basic standard features such as gymnasium, swimming pool and lift and others, from a market research confucted by our developers and mortgage team, which aims at customer satisfaction and to determine international standard practice; for Nigerians and Diplomats will truly desire,
LeonardoBySujimoto project offer our Residents/Occupants the opportunity to enjoy those exceptional feature such as: Private IMAX Cinema for the Residents, Indoor Virtual Golf where you can play on over 2500 golf courses, Creche for the residents – first of its kind, Award Winning Zaha Hadid Bathroom, no hotel in the world has the quality of our bathrooms; designer Kitchen by Kohler, Interactive Lobby with waiting area, Full Home Automation where you can control your door, curtain, music, light and TV from the touch of a button, Indoor salon, Club House, Mini-Mart, Tennis Court, State of the art Techno gym, Infinity Swimming Pool, Squash, Badminton, all of this features at N60million deposit!
Price:
From our studies the best apartments in Nigeria, ie: The most expensive 4 bedroom apartments are within Bourdillon and Eko Atlantic and their prices ranges from $935,000 to $3.5millon which is about N420million to N1.5 Billion, while a 4 Bedroom at the LeonardoBySujimoto is selling for N300million.
Based on the layout features and facilities, we decided that Sujimoto buildings will be a combination of the two projects, in a steal!
For the first time you can own a Sujimoto home (LeonardoBySujimoto) in Africa's most expensive neighbourhood with as little as N60million (30% deposit) without having to break the bank.
No doubt, the Leonardo project is cost-effective for now but note that the 3 Bedroom you are buying for N250million naira today will sell for 450million by the time we launch in November.
Now is the best time to buy! Call Dami on 0809 852 1646, 0818 325 5555 or send an email to
leonardo@sujimotonig.com to get started