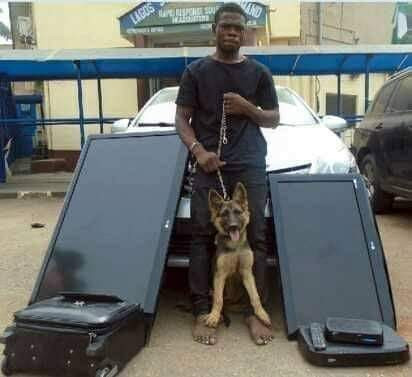 According to twitter user Ojonugwa, a robber broke into a house and stole the security dog, television sets and other items. This happened somewhere in Magodo area of Lagos State. The tweet got lots of hilarious reactions concerning the security dog. Here's the tweet:
" Just to cut a long story short, The guy broke into a House in Magodo, Lagos & stole two Television sets, a decoder & other items. As if dat was not enough, he stole the Security Dog too. Security dog wey suppose dey guard the owner, dem thief am join. The matter crack me up"
Here are some reactions to the tweet:
Most hilarious stuff I've read this year. That dog should chop some kobokoto think I love dogs because they are smart. See it posing with the fella he should attack. Oh damn
Maybe dog was poorly fed….and my guy gave the dog small something before he raided the house. Dog kukuma say…."bros let me go wt you o, e be like u go sabi take Kia of somebody"…dog still comfy wt d guys in dis pix
That's a puppy, can't be blamed, it's still developing intellectually, most puppies can be easily swayed, he should try again when the pup is 1yr plus and trained, comman see movie
Stole the dog ? Unbelievable because Shepherd's attack strangers straight away. The thief must be someone he knows. I have a German Shepherd.
The dog is as useless as the thief. Methinks there's a conspiracy here. The Police should investigate who sold the dog to the house owner Methinks the thief was the first owner